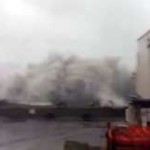 As with many things – well, things change! I felt that using a domain name that was not directly attributed to ME, despite my being the administrator, I felt it was better to move the site to mikefinding.com and be totally seen as the Guv'nor here! Well – that's what I like to think anyway!!
With that in mind, yes, we've moved and now I hope we'll stay here and grow.
The last few months have been a real eye-opener as far as UK weather has been concerned and we have seen nothing like the worst here in our home town of Dorchester. Down at the coast it has been terrible and very difficult for people living in the areas near the sea.
The photos above are NOTHING compared to the floods of The Somerset Levels and other coastal tidal rushes. Take a look at a local example from Portland – and this is just one of many..
Wave over Chesil Beach at Chiswell Portland 5 February 2014

Now the beaches of Dorset are becoming places that need cleaning up and also being very careful with walking dogs and just being watchful of what they pick over – Palm oil and other contaminants for one have caused the deaths of many seabirds and some dogs. It seems there is no come back on ships that lose carge and dump materials over the side.
UPDATE: Tide of dead seabirds keeps rolling in
4:00am Tuesday 25th February 2014 in News
By Emma Walker, Reporter
DOZENS of dead seabirds are still being washed up on Chesil Beach.
Local campaigners and conservationists claim the deaths are due to a deadly combination of freak storms, lumps of what is thought to be palm or vegetable oil and fishing equipment.
More than 100 birds, including razorbills, guillemots and gannets, have washed up around Chesil Cove over the past week along with lumps of a white, sticky substance.
Wildlife photographer and conservationist Steve Trewhella is urging authorities to take responsibility for removing the hazardous debris.
He has now taken matters into his own hands by attempting to get the pollution analysed to find out what it is and where it came from.
The Wareham resident said: "The whole beach is covered in these large lumps of what we believe to be either palm or vegetable oil.
"On the weekend, children were seen touching it and dogs eating it- it is hazardous and needs to be removed.
"Warning signs should have been put up alerting people to this pollution."

Anyway – 'nuf of the doom and gloom but I just wanted to add a post to say what we have been doing with the website and also a small version of the goings on with the weather…
Hopefully this blog with start to gather pace as the year moves on…
Very best to you all