Poole Quay to Wareham Boat Trips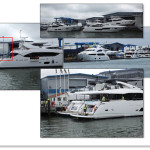 A boat trip in Poole Harbour, up to Wareham thro' the River Frome.
Overcast and very windy – the trip was….a bit chilly on the way out. But the journey was excellent
Back in July 2013 we decided to take one of the Poole Quay to Wareham Boat Trips
This trip is WELL worth the time taken and it just shows a different view of the area
The Poole harbour is a very busy area and it just shows how you "miss different aspects of an area you may think you know quite well!
In Poole there is the huge Sunseeker Boat company.
Huge cruisers moored on the keyside under various states of construction! There is one that is now the largest ever being built – for a football connection, we think, too long for the shed and coming in at around £11,000,000! See the red square on the photo below!
Up thro' Poole Harbour a way and the skipper gives a commentary on the shore line wealthy housing with boats moored outside the front doors, port business and the islands dotted around the Poole Harbour.
The harbour is well populated with wildlife and the Brownsea Island is a favourite destination (photos and brief notes on our visit there will be coming!). Brownsea IS a place recommended by the Mike Finding Tourist Guide Book!!
While we were out on the boat the marines were also out on the water, with speeding boats and a helicopter! I went out totally unprepared for a distance shot like this, but hey the ol' gear did ok! This was taken with the EOS 5D Mk 11 and an older Canon 100 – 300 zoom I had in the bag. As you can probably see the weather was a tad overcast and gloomy for the upriver trip!
Before cropping – this was the original photograph!
Up into the River Frome there is a "two lane" river highway with a 4mph speed limit – this prevents erosion and destruction of the reed bed habitat. It's also a collision prevention for the traffic later in the fine summer weathers! The weather was too overcast on the way up to get any photographs so we just enjoyed the trip.
Once at Wareham we disembarked and went to find a cuppa or some soup – it had been a chilly trip into the wind!
No sooner than setting foot on dry land and we found Harry's Bar – this turned out to be a great place for some soup and a cuppa – a most excellent lunch and it turned out that Thursday was two for one! Bonus!
Back at the Wareham Bridge we were to be embarked back on the Purbeck Gem by 1-20…..