A New Pensioner's "first day out"!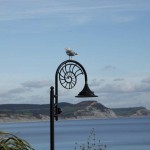 Tuesday – the forecast was a bit "down" for the Wednesday and we decided to take a day out on the "good day"!
First "stop" was a drive thro' Axminster (seeing it in the daylight instead of night time at the Axminster Inn with a bande I used to be with, Mojo – Stone Cold Players!! A very nice place!
We then made our way to Seaton Wetlands – WHAT a beautiful gem that is. We DID get caught foir a photo as "normal people" and not the Councillers that had just been inspecting the new works…
Quiet, peace, bird calls……NO phones and traffic…. Bummer!
So after a walk and view out of the Island Hide we then made our way back to the car. The car park is actually accessed through a beautifully kept cemetary…NOT a bad last resting place!
Ok – on the the Ax Estuary bridge and a walk along the estuary path to the join with the sea….quiet, very bright and sunny. A beautiful bird of prey (we think it was a Sparrow Hawk) was hovering above the cliffs and an attempt at a photo for ID purposes is included here – any advance on Sparrow Hawk? Dodgy photo tho'!!Where to after that then? Hmm – only one answer as it is on the way home. Lyme Regis
Lunch on the Monmouth Beach, Lyme Regis and it was hot! The sun just shone beautifully and it was a joy to see the sea as it was so calm and peaceful.
After lunch and walk along the seafront and over to the "artists section" to see what was on show…Clever paper and cloth fabrications but not for us…
We found a "backstreet" we had not walked before and it was quite lovely with the warm sun and river running past all the houses in the area. The old Horse Street Post Office has a wooden letter box from the time (1799 to 1893) when the Old Lyme Guest house was the oldest post office in the country.
We then decided to make our way up the hill to Silver Street. Big mistake – THAT is some hill for. Ah well – it was a good pull up there and there is another way we have yet to find…
Over the main street into the Lyme Regis Gardens. A stop to sit on a bench and look out over the Lyme Bay.
Peace – the sea was so calm and it was so quiet and well worth the stop.