What Lens Should I Obtain For My Digital SLR Camera?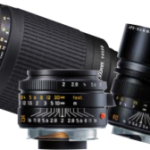 Lens Choices can be confusing – if you are not sure what you want and if you don't know how a lens performs. I was reading an Infographic on just this topic earlier today  – so this article I received is very appropriate. For that reason I will show it in this post. I will also show and link out the Infographic in a PDF format at the end. This will also link to the author of the Infographic.
Posted in PictureCorrect: 26 Jul 2013 04:21 PM PDT
One of the most important advantages of DSLR cameras (i.e. semi-professional and professional) is the ability to use different lenses. However deciding on what lens to buy and what lens is suitable for a specific type of photography is a bit difficult. In this article we learn about advantages and main purpose of using specific types of lenses, hoping that we make it easier for you to decide. Let's have a look at different types of lenses and learn when they are used.
Prime Lenses and Zoom Lenses: A lens with a fixed focal length is being called a prime lens. This is opposite to zoom lenses which have varying focal length. As the focal length is fixed, in order to compose a photo you will need to adjust your distance to the scene to have specific objects or people in the photo. In zoom lenses, you will use the zoom level to compose the photo instead of changing the distance of camera to the scene.
Prime lenses can improve the crispness or sharpness of your shots. Prime lenses have a more simple build than zoom lenses and they can be designed to have very much better performance, sharpness and quality than zoom lenses. Zoom lenses normally show different types of errors in different focal lengths while prime lenses have the least amount of such errors. Prime lenses are very compact and much smaller than zoom lenses. Their price is also cheaper than zoom lenses in an equal aperture size. You can buy a 50mm f/1.8 lens for a Canon or Nikon camera for around $100 while a zoom lens with the same aperture size might cost above $1000.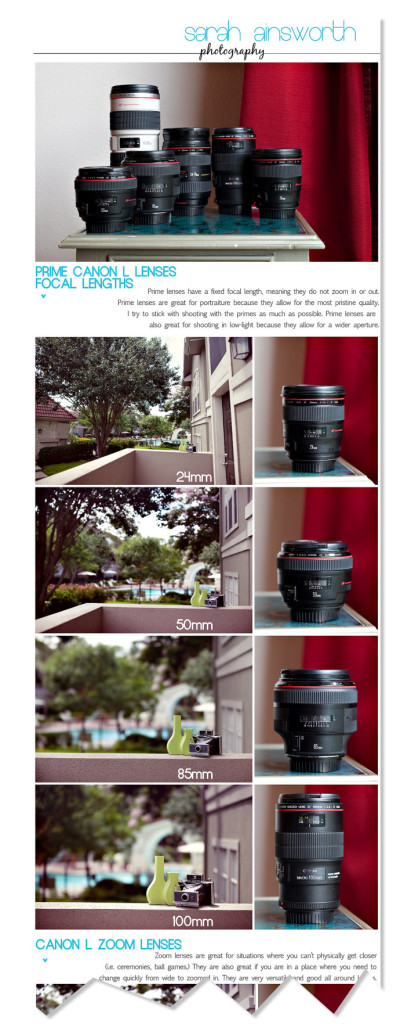 Normal Prime Lens: A prime lens (i.e. with a fixed focal point) with a focal length of 50mm is called a normal lens. Photos taken with a 50mm lens seem similar to what our eyes see at the scene (perspective, angles etc). Canon, Nikon and some other DSLR brands, as mentioned in previous section, sell normal lenses with f/1.8 aperture size or better (like f/1.4) with a cheap price. An f/1.8 normal lens is suitable for relatively low light conditions and produces sharp and bright photos.
Short Zoom Lenses: Zoom lenses which cover the range of up to 50-60mm can be considered in this category. Examples of these lenses are 35-70mm f/3.4-4.5 and 28-70mm f/3.5-4.5 lenses. Nowadays some Canon and Nikon models are offered with a cheap 18-55mm f/3.5-4.5 lens. These lenses can be considered short zoom lenses while they also cover wide and super wide range.
Super zoom Lenses: These are the types which cover a super big range. Super zoom lenses like a 18-200mm lens cover wide-angle as well as tele-focal lengths.
However the most important feature of these lenses is their convenience of avoiding lens change. These lenses can offer almost every focal length you need and therefore they are sometimes being called as "walk around lenses". If convenience is not a matter for you, we recommend you to use more than one lens which have a better performance in a smaller focal length range.
Aperture Size: Bigger aperture sizes (i.e. smaller f number) like f/1.4, f/1.8 and f/2 provide more light to the camera sensor and therefore are faster lenses (photo can be taken in a faster shutter time). However zoom lenses with bigger aperture size might be unbelievably expensive. F number is calculated by dividing the focal length to the aperture diameter. As an example if the aperture size (i.e. diaphragm window) of 50mm lens is set to 6.25mm the f number will be 50mm/6.25mm=8 meaning that with this aperture size, lens has been set to f/8.
Wide-angle and Ultra Wide-Angle Lenses: Lenses with a focal length of 21mm to 35mm are normally called wide-angle lenses. Lenses with a focal length of less than 21mm are called ultra wide-angle lenses. These lenses can be either prime lenses or varying focal length ones (zoom lenses). Wide-angle prime lenses have better aperture sizes (in the range of f/1.4 to f2.8) than wide-angle zoom lenses (aperture sizes of f/3.5-f/4.5 most of the time). Again the zoom types provide flexibility while prime lenses provide sharper photos, cheaper price and bigger aperture size (i.e. better photos in low light conditions). There are also zoom lenses which just cover wide and super wide ranges. These include 21-35mm, 18-28mm lenses.
The large coverage angle is also one of the benefits of wide and super wide lenses. An ultra wide lens can sometimes capture up to a 90 degrees angle or even more.
Wide and ultra wide lenses normally have perspective distortion. This kind of distortion causes the nearby images to be photographed very much bigger than far away objects. These lenses are suitable for taking photos inside buildings, street photography and so on.
If you mostly shoot inside buildings, a lens covering focal lengths of 28mm or below will be suitable. This kind of lens allows you to capture a considerable angle of a scene without the need to have a big distance with the subject(s). However, if you shoot portraits and nature a longer range lens will be more useful. In these cases a 35-135mm lens is very good.
Long telephoto Lenses: Lenses with a focal length of 135mm or above are normally considered as long telephoto lenses. Tele lenses which have varying focal length are called telephoto zoom lenses while those with a fixed focal length are simply called telephoto lenses. You can easily find 55-200mm, 55-250mm, 70-300mm, and similar telephoto zoom lenses for most of the DSLR brands. However because of the big range of the lens and complicated design, different focal lengths of the lenses might show different errors and quality. These lenses normally have a lower performance than short zoom lenses and fixed focal length telephoto lenses. A 200mm telephoto prime lens is an example of non-zoom telephoto lenses.
Medium Telephoto Lenses: Lenses with focal length of the range 85-135mm are sometimes referred as portrait lenses. This is because their perspective distortion is low and a suitable distance between the subject person and camera can be maintained. Many telephoto zoom lenses can be used in this range, but they are heavier, bigger and their maximum aperture size is smaller than prime lenses. However if you shoot a lot of portraits, you would rather use medium prime telephoto lenses like with a focal length of between 85mm and 105mm maximum aperture size of f/2.
Prime medium telephoto lenses have less perspective error and as mentioned earlier their image quality is sharper and brighter and bigger aperture size prime lenses are cheaper than zoom lenses with the same maximum aperture size.
Macro Lenses: Macro lenses are designed to provide very high level of magnification and also very short focusing distances. In normal zoom lenses minimum focus distance (i.e. the distance between lens and the object) is normally larger than 30 cm. This distance is a few centimetres for macro lenses so you can take photos from a shorter distance and have a sharp and very detailed photo of a very small object (like a small flower or a bee).
About the Author:
Mac Sarmady writes for Society50 social networking website. The Photography Club of Society50 has a Q&A section for photography issues.
For an alternative to expensive lenses, you may want to consider Topaz Lens Effects while it is half off this month. Details here: Topaz Lens Effects Summer Sale
Go to full article: What Lens Should I Obtain For My Digital SLR Camera?
What are your thoughts on this article? Join the discussion on Facebook or Google+
Article from: PictureCorrect Photography Tips

Sarah Ainsworth Photography – Infographic