Smooth Panning of a Tripod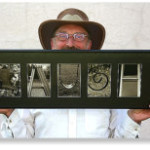 This is a very neat trick when you are making videos!
Just find a rubber band and give this a go!
This video link was sent over my my good ol' mate, David the Letterman from A to Z Illusions; photographer extraordinaire and creator of the excellent Alphabet Photo letter gifts….
Thank you David.
My very best wishes to you – get that camera and take some pictures!